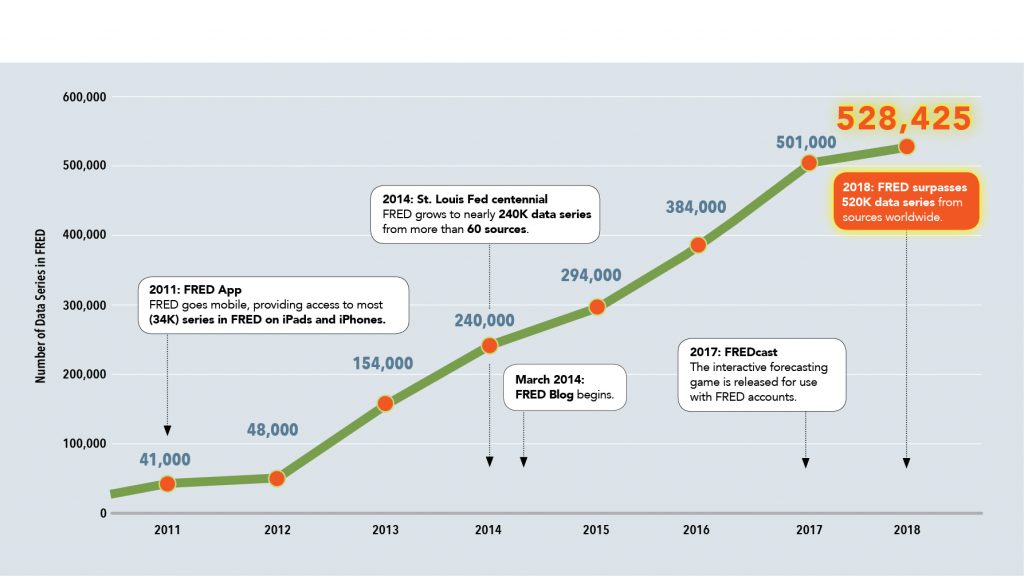 This is the 500th post for the FRED Blog, which is a great opportunity to acknowledge all those who make FRED the wonderful data tool that it is.
First, there's the FRED team itself. These dedicated data specialists and web developers sustain and expand FRED's structure and service. Of course, the fuel behind FRED is data and FRED's mission is to disseminate the data. So, it's the work of 87 data-producing institutions and agencies that allow FRED to do this—by collecting and producing data with integrity and usefulness. See the list of data producers below, but also indulge us for a moment as we acknowledge one especially effective partnership.
The U.S. Census Bureau is one of FRED's most prolific data producers, and their data team in the Economic Indicators Division has worked closely with the FRED team to ensure all their series are in top form. The two teams share a commitment to deliver data to the public to help everyone make better economic decisions.
The Census team also promotes the FRED mobile apps in their economic indicator press releases, since they made the choice to take advantage of those FRED apps instead of creating their own. By doing so, they conserved funds and avoided duplication of effort—one example of what the two teams call "smart government." Partnerships like this are a win-win-win for data producers, FRED, and users who need access to the data.
For a deeper dive into this world of data, take a look at the St. Louis Fed's 2018 Annual Report, which is all about FRED and its family of data and information services. Read the essays, watch the interviews, and find out what FRED enthusiasts have to say about the importance of data access for informed decisionmaking.
FRED'S DATA PRODUCERS AND PARTNERS
U.S. Institutions and Agencies
Research and Policy: The Federal Reserve Banks of Atlanta, Chicago, Cleveland, Dallas, Kansas City, New York, Philadelphia, Richmond, San Francisco, and St. Louis (of course) and the Board of Governors of the Federal Reserve System, including the Federal Open Market Committee; National Bureau of Economic Research, Council of Economic Advisers, Dartmouth Atlas of Healthcare
U.S. Government: Bureau of Economic Analysis, Bureau of Labor Statistics, Census Bureau, Congressional Budget Office, Bureau of Transportation Statistics, Department of Housing and Urban Development, Department of Labor, Department of the Treasury (including Fiscal Service and Internal Revenue Service), Employment and Training Administration, Energy Information Administration, Federal Highway Administration, Federal Housing Finance Agency, Office of Management and Budget, Patent and Trademark Office, Federal Deposit Insurance Corporation, Federal Financial Institutions Examination Council, Federal Bureau of Investigation, Centers for Disease Control and Prevention
Professional: National Association of Realtors, Automatic Data Processing, Inc., Cass Information Systems, Inc., DHI Group, Inc.
Analytical, Financial, Exchange: Haver Analytics, Moody's, S&P Dow Jones, Equifax, Freddie Mac, NASDAQ, Coinbase, Chicago Board Options Exchange, Wilshire Associates
Academic: Oklahoma State University, University of California–Davis, University of Louisville's Logistics and Distribution Institute, University of Michigan, University of Pennsylvania
International Institutions and Agencies
The central banks of England, Italy, Japan, Mexico, Turkey, Germany, Australia, and Switzerland; the European Central Bank, the World Bank, Eurostat, International Monetary Fund, Bank for International Settlements, Organisation for Economic Co-operation and Development, JP. Cabinet Office (Japan), GB. Office for National Statistics (Great Britain), Nikkei Industry Research Institute, ICE Benchmark Administration Limited (IBA), University of Groningen
Suggested by George Fortier.