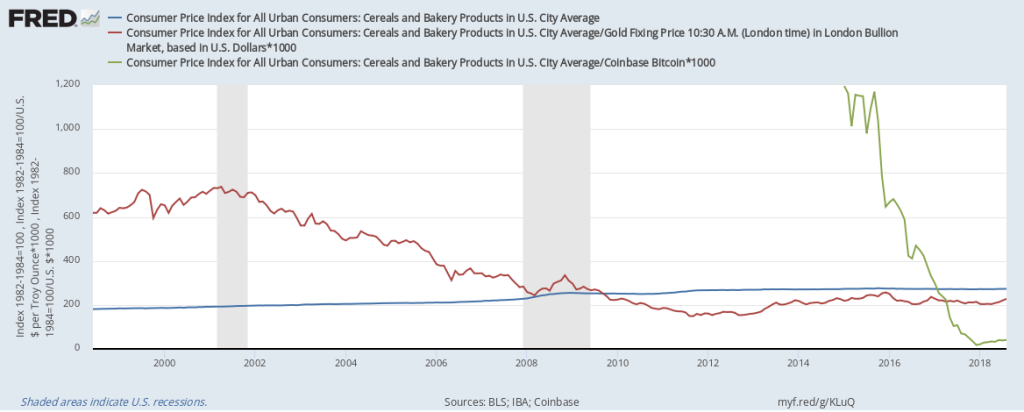 What if U.S. retail prices were
not
denominated in U.S. dollars, but instead were denominated in gold or Bitcoin? Paying for a loaf of bread with gold wouldn't be very practical, as you'd need a very small speck of the precious metal. But one can imagine a system of gold substitutes, such as notes giving you ownership of a fraction of an ounce of gold, thereby overcoming the small-change problem. With Bitcoin, it'd be much easier, as a virtual currency can be divided any way you want. Now, let's look at actual prices. FRED doesn't have price data on just a loaf of bread, but it does have the consumer price index for cereals and bakery products, so let's use that. The blue line shows the evolution of the U.S. dollar price of a basket of baked goods. The red line shows the price in gold, and the green line shows the price in Bitcoin. It's apparent that the dollar price is much more stable and has slowly increased over time. The gold price has considerable fluctuations from month to month. While the gold price seems to have a tendency to decrease, this isn't always true, which you can see if you enlarge the sample window. As for Bitcoin, the fluctuations are extreme, even when you restrict the sample period to the past year. What's behind the differences? The Fed's mandate is to stabilize prices as expressed in U.S. dollars, and this is quite apparent in this graph. The Fed does this by adapting to changes in the demand for dollars. That isn't possible with gold, as its supply is determined by worldwide mining success, which is outside of the control of any institution. The same applies to Bitcoin, with the additional constraint that mining success keeps dwindling.
How this graph was created
: NOTE: Data series used in this graph have been removed from the FRED database, so the instructions for creating the graph are no longer valid. The graph was also changed to a static image. Suggested by
Christian Zimmermann
.